LEAGUE RECOGNISES BOB BRIMACOMBE'S DEDICATION
---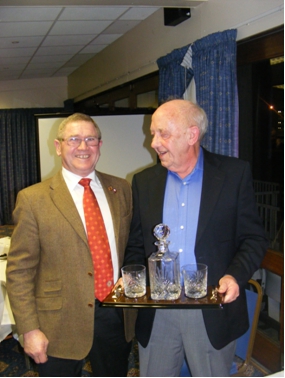 The 2012 Half Yearly meeting of Club's brought about two first's for the League, a standing ovation and Bob Brimacombe being rendered speechless.
The reason for both these feats was a presentation of an engraved decanter and glasses to Bob in recognition of his dedication and service to the League. As well as being Chairman since 1994 when the League started as a sub section of the Mid Essex League, Bob also held the post of Secretary between 20? and 2011. Bob has presided over the growth of the League from one division of seven teams to the current seventy seven teams playing in eight divisions, with five cups including one for Over 45's.
The presentation was made by Eddie Rhymes (right) the Chairman of the Essex County Football Association.